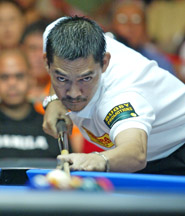 Ronnie Alcano bested Johnny Archer in the
eight-ball final
at the
Galveston World Classic
on Sunday. That's Alcano in the photo.
In the
10-ball final
, it was Mika Immonen over Warren Kiamco. As predicted, Kiamco did not go down easily. Because Kiamco came up through the
loser's side
, he had to beat Immonen in two sets in order to win the final. Kiamco managed the first set, but lost in the second.
For their victories, Alcano and Immonen take home $15,500 and $25,000 respectively. Efren Reyes on Thursday won the one-pocket event and Yu Ram Cha on Tuesday came out on top in women's nine-ball. The inaugural Galveston World Classic, held in the very attractive Moody Gardens resort in the island city, also featured an amateur competition and a wheelchair competition. It finished up on Sunday. Promoter
Louis Vickio
of Houston promises to put the show on again next year.