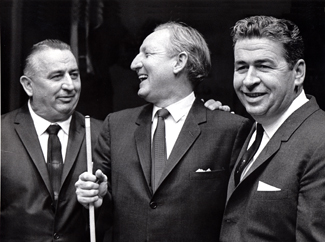 George Jansco, left, and brother Paulie, right, seen here with 1993 Hall of Fame inductee Eddie Taylor. Why aren't George and Paulie in the Hall of Fame?
The newest inductees into the Billiard Congress of America Hall of Fame were announced last week by the United States Billiard Media Association. Kudos to Danny DiLiberto and Ralf Souquet.
The official induction ceremony will be held Oct. 20, during the U.S. Open 9-Ball Championship in Chesapeake.
Hall of Fame induction can mark the culmination of a grand career. Past winners include Johnny Archer, Alison Fisher, Willie Mosconi, Ralph Greenleaf and the great Willie Hoppe. The most important promoters of the game, such as American Poolplayers Association founders Larry Hubbart and Terry Bell, have also gained entry. But several important personalities have been skipped over through the years — some because of BCA rules, others because they were active so long ago that they have been nearly forgotten.
For this edition of Pool Synergy, I've listed 10 dead guys who are not in the Hall of Fame but should be. I've limited this list to the dearly departed, although there are plenty of folks among the living who deserve induction. I'd like to thank Mike Shamos, the great Billiards Digest historian, for help with the list. The players and promoters are listed in alphabetical order, not by order of importance.
1. Bennie Allen (1890-1953)
Allen was the U.S. 14.1 champion in 1913, 1914 and 1915. In 1950, he became he first U.S. National Snooker champion. Allen is the only three-time winner of the national 14.1 title who remains outside into the Hall of Fame.
2. Steve Cook (1946-2003)
Cook was the all-around champion in 1970 of the Las Vegas Stardust Open, then the richest tournament in pool. Cook already has been inducted into the One-pocket Hall of Fame. However, he has been kept out of the BCA Hall of Fame because he has not won a BCA recognized world or national title, which is required for BCA induction
.
3. Maurice Daly (1849-1932)
Daly was the U.S. 4-ball champion in 1873, the carom champion in 1873 and 1875 and the World cushion caroms champion in 1883. Incredibly, he also was the teacher of Willie Hoppe and the author of Daly's Billiard Book, which at one time was America's best-selling sports book.
Rags: Best 1-Pocket Player Ever?
4. Johnny "Rags" Fitzpatrick (1918-1960)
One of my personal favorites, Fitzpatrick was best known as a 1-pocket player, but possessed great skill at the other games. Some believe Fitzpatrick to have been America's best-ever one-pocket players. He was inducted into the One-Pocket Hall of Fame in 2006.
5. Allen Gilbert (1939-2006)
Gilbert, who resided in Los Angeles,
won the United States National 3-Cushion Billiard Championship on seven occasions. He was also the author of Systematic Billiards and a respected billiards instructor
.
6. Thomas Hueston (Unknown-1940s)
Hueston won multiple championships in continuous pool (a precursor of straight pool), in straight pool and in three-cushion billiards. Hueston held both the pool and three-cushion titles at the same time.
7 & 8. George & Paulie Jansco (1915-1969, 1918-1997)
9. Jerome Keogh (1873-1953)
Keogh won the continuous pool championship many times over — but more importantly, he was the actual inventor of straight pool. How many people can make such a claim? It's incredible that Keogh has not yet been inducted into the Hall of Fame.
10. Don Willis (1909-1984)
Willis was remembered as one of America's finest hustlers and a great friend and road partner to Wimpy Lassiter. Willis was a great 9-ball player, but he always avoided tournaments.
About PoolSynergy
PoolSynergy is an online collaborative effort by pool and billiard bloggers, in which each agrees to write about a single theme. To read a list of the other fine contributions this month, check out Sam Diep Vidal's excellent Pool Tip Jar blog, which you can find
here.
If you have a question or a suggested topic for the PoolSynergy project, please send it to R.A. Dyer, care of this
email address.